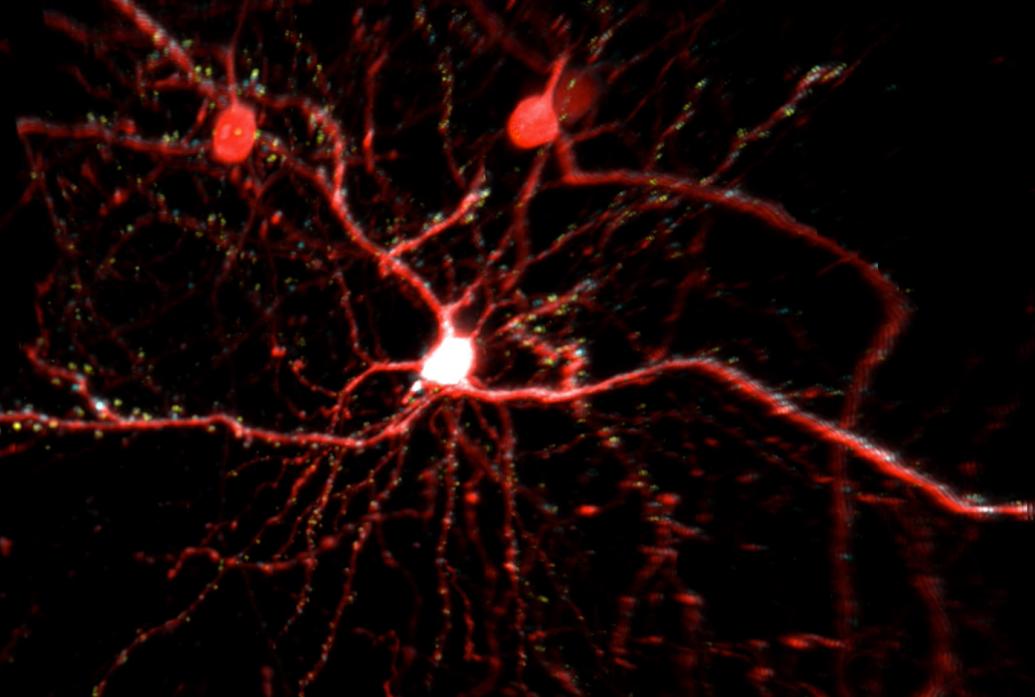 Multi-color two-photon microscopy
Elly Nedivi's studies of synaptic structural plasticity have required her to be able to independently image excitatory and inhibitory synapses. Excitatory synapses are not exactly easy to find but they have clear physiological hallmarks: They appear on tell-tale protruding little spines on dendrites. Inhibitory synapses on the other hand may or may not neighbor excitatory ones on spines or they may appear on the shaft of the dendrite without any obvious protrusion.
Meanwhile, traditional two-photon microscopy only shows one color, typically used for a cell fill, making it difficult to visualize synapses directly. One could give them different color labels, or fluorophores, and switch from one color to another in successive scans, but that's very slow. To more efficiently label and image the two different kinds of synapses, Nedivi collaborated with engineer Peter So to create multi-color two-photon microscopy.
Their strategy was to use a combination of fluorophores that could be co-excited, but with emissions that are easily separated. Nedivi designed excitatory and inhibitory synaptic labels and determined the optimal cell fill and synaptic labelling combinations for simultaneous excitation and separable emissions. So customized the two-photon microscope in the Nedivi lab to perfectly align two laser beams so that they target two excitation wavelengths in the same path with exquisite temporal and spatial resolution. The detection path was also re-configured to allow separate collection of fluorophore emissions in three different color channels. By shrewdly mixing and matching the right fluorophores in the right places in the right proportions, they can fill cells with one color, show excitatory synapses in another and inhibitory ones in a third. For the first time it is now possible to visualize and track multiple synaptic components across entire neurons in vivo.